Staff lockers
Assortment of metal lockers Metal lockers can be customized according to the needs of each customer - their range is truly plentiful. You can find not only different models but also products with different characteristics.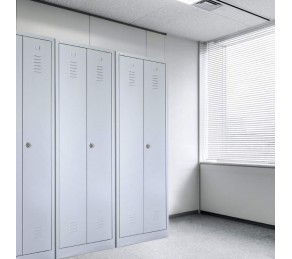 Assortment of metal lockers
- size (the size of cabinets may vary according to the number of doors; we offer products from one door to eight);
- door width (the door can be 30 cm or 40 cm; the width of the door also depends on its interior - metal changing cabinets inside the wider door with a partition);
- wall thickness (all cabinets are made of high-quality steel; the thickness is 0.5 mm or 0.8 mm);
- cabinet level (metal dressing cabinets are divided into two levels: the first is when the cabinet from top to bottom is solid, the second is when the cabinets are smaller and are mounted on top of each other).